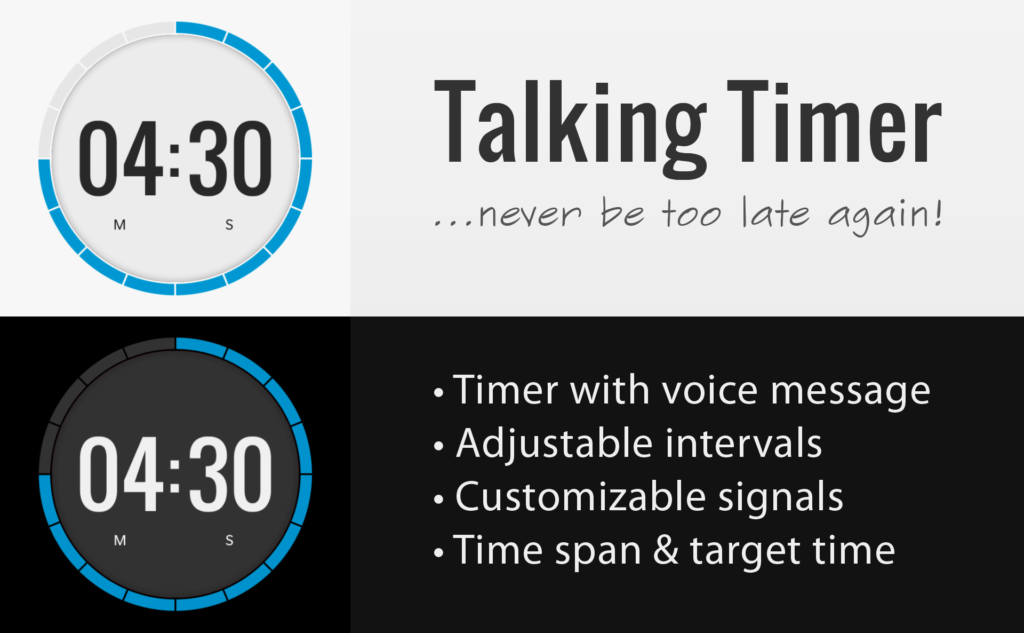 Stylish timer with voice announcements
Talking Timer – never be too late again.
Set the time span or a target time and a voice tells you the remaining time in adjustable intervals. The regularly announcements keep you informed and you will never miss an important moment again. For example when you need to reach your flight on time or when you are monitoring your cookery.
Key Features
Talking Timer tells you the remaining time in adjustable intervals
The remaining time is announced by a female voice
Modify a running Timer on the fly by adding or substracting minutes
Create timer and save for a specific time span or a specific target time
General Features
Free DEMO-VERSION available! No need to buy this app unseen
Native BlackBerry 10 Cascades app
Latest BlackBerry 10 version 10.3 design language
Lightweight, uncluttererd design
Dark and bright theme support
Optimized for all BlackBerry 10 devices
No internet-connection needed
No malware, no advertising
Supported languages: English, German
Timer Features
Create as many timer as you want
Time span timer or target time timer
Timer shows the calculated target time
Add or substract minutes from a running timer on the fly
Assign a color to each timer symbol
Repeating voice announcements every 60, 30, 20, 15, or 10 minutes
Final announcements  15, 10, 5, 2, 1 minutes before end (optional)
Countdown (optional)
Signal sound before each announcement
Alarm sound when time is over
More than 20 built-in signal- and alarm sounds
Add your own sounds
Screenshots