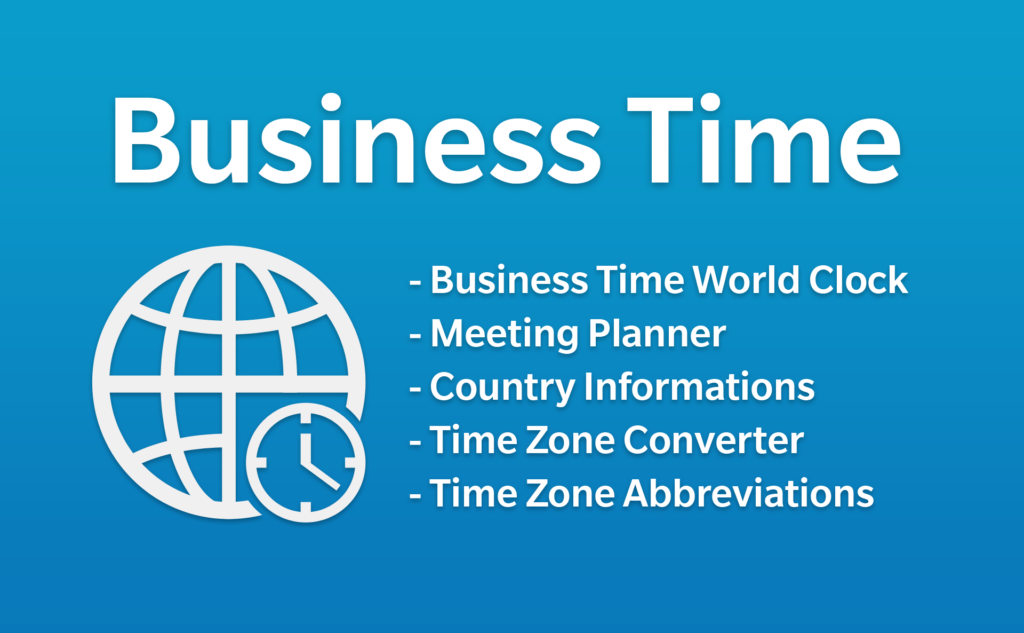 Create and save a set of locations where your business-partners, family members or friends are located and assign their preferred business times / wake times. You can easily observe the current or future time state of a selected location. The interactive meeting planner is a unique tool to find suitable meeting times. You can add a selected time to your calendar or share it with your contacts with one tap.  A must have tool for every BlackBerry 10 user with contacts world wide.
Key Features
World Time Clock – Current time and business time state of 22000 locations worldwide
Meeting Planner  –  Find a suitable time for an international meeting
Time Zone Converter – If it is 1pm in New York next week Friday, what time is it in Berlin?
Country Database – Which different timezones has Canada?
Time Zone Abbreviations Database – What exacly means 'EEDT' and in which countries is it used?
General Features
Free DEMO VERSION! No need to buy this app unseen
Native BB10 Cascades app
Latest BlackBerry 10 version (10.3.1) design language
Dark and bright theme support
Optimized for all BlackBerry 10 devices including BlackBerry Passport
Trackpad -support coming soon
No internet-connection needed
No malware, no advertising
Locations
Built-in database with more than 22000 locations worldwide
Search for cities or countries (city-search includes a synonym search)
Add a selected location to 'My Locations'
Modify name, wake time and business time for each location
Assign your current home location
Assign your locations to the world clock or meeting planner with ease
Time switching houres are marked sepearately
World Time Clock
World time clock in grid view or list view
Current location time state is color coded
Location Details
Date, time, current state, sunrise, sunset and moonphase informations
Current local weather (internet connection needed)
Easy time zone converersion with the interactive timeline control
Share a selected time/date simply by tapping the matching cell in the interactive timeline
Add a selected time/date to your calendar simply by tapping the matching cell in the interactive timeline
View useful city and country information
Timezone information: View all time switching dates till 2030
Meeting Planner
Unique workflow, optimezed for BlackBerry 10 devices
Assign locations to the Meeting Planner
Set the date by a specially built easy to use calendar control
Find an appropriate time inside the interactive timeline where the color coded business times overlap
Share a selected time/date simply by tapping the matching cell inside the interactive timeline control
Add a selected time/date to your calendar by tapping the cell in the interactive timeline control
You can modify the selected time in 15 minute steps before sharing
Countries
Country Database with useful country information like capital city and currency
Search and filter the country database
Find the selected country on built-in earth map or map-application
Find all different timezones of the selected country
Add the country or region to your locations
Time Zone Abbreviations
Search for all  timezone abbreviation
View all countries or regions inside a country, using the selected timezone
Add country or region to your locations
Screenshots